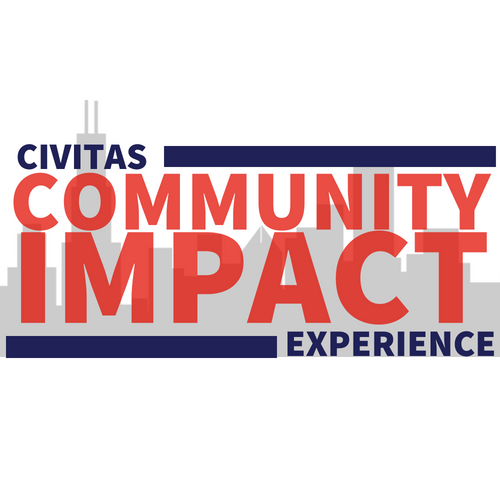 See More Activities Like This
Civitas Community Impact Experience Symposium
What happens when student passion, interests, and activism collide?

Come visit the Civitas Community Impact Experience Symposium to learn more about the journeys our students have taken as they worked on designing, prototyping and implementing solutions to challenges that impact society. The Civitas Community Impact Experience (CCIE) empowers students to discover their unique talents, passion and duty to serve through experiences in authentic community projects, problems, and opportunities. Join us and RSVP to reserve your ticket. SPACE IS LIMITED.
CCIE Symposium Schedule:
10AM - 11AM: Gallery Walk (open time to learn more about CCIE projects)
11AM - 12PM: CCIE Panel Discussion
12PM - 1PM: Gallery Walk (open time to learn more about CCIE projects)
The CCIE experience engages, challenges, and prepares students to impact their communities and the world as consultants, designers, problem-solvers, critical-thinkers, and innovators. Teams of ChicagoQuest HS seniors use the City of Chicago as their classroom and engage in projects based on authentic problems and topics from sponsors and community partners that reflect the diversity of the workplace: corporations, entrepreneurial ventures, non-profit organizations, and government agencies.
CCIE projects come from the real needs of businesses, entrepreneurial ventures, non-profit organizations, and government agencies, as well as generated by students and teachers. Community partners pitch their authentic, open-ended projects to students, highlighting project impact, challenges, learning opportunities, and career strands. In addition, students designed and pitched social venture projects intended to solve and impact concerns and issues in our community. After the pitches, CCIE students chose the projects to work based on their personal interests and passions, opportunities to impact society, and relationships with community partners. Some examples of projects that CCIE student consultants worked on include:

Creating access and opportunities to experience world cultures and countries through developing a travel abroad program targeting historically underserved youth
Addressing equity and access issues around feminine hygiene products specifically for incarcerated women
Creating a youth facing, digital platform that delivers a positive and engaging youth experience
Designing and creating a consulting firm that supports African American entrepreneurs passionate in owning a marijuana dispensary
Empowering student voice in the upcoming mayoral election around educational policies
Creating solutions that increase engagement of youth in community theaters
And More!
Check out the CCIE video and podcasts to learn more about our program.
For more information contact Matsuo Marti at mmarti@civitasedpartners.org
#RemakeDaysChi ... Follow us @CCIEChicago
---
Age: 14—20
Cost: FREE
Type: In Person