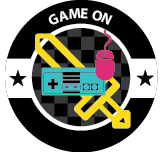 The Creators' Playlist: Game On
View Details

---

Design and build your own games---become a Game Designer!

Using GameStar Mechanic you learn about games and how they work while you build one. Take your favorite board-game and remix it, by changing rules, boundaries, or obstacles and see how it affects gameplay. Explore world-building in Minecraft, then level up to Scratch to learn how to code like a game developer. Jump into the activities below to get started!
---
Badges you can earn for this challenge