Teens earning this badge have undergone an in-depth research experience to understand the post-secondary pathway of their choice and to identify key stakeholders and organizations that they will contact and engage. Teens will create a literature review to organize everything they have learned. They will also contact and interview at least one of the identified stakeholders. This research will inform their direct service project.
Issuer:

After School Matters
http://www.afterschoolmatters.org
Text
Badge Type: skill
Expected Duration: 4 weeks
Critera
[required] Learners will demonstrate their ability to conduct an indepth review of the post-secondary topic of their choice.
[required] Learners will organize information through the creation of a literature review.
[required] Learners will take that information to propose a very high-level idea of what their direct service action might be.
Earn by participating in: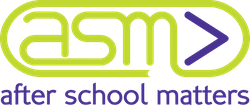 ASM Youth Ambassador Leadership Council - Spring 2016
Use research to make an impact! Uncover what you need to know to start taking action.
Sorry. This activity is no longer available.